(Last Updated On: July 17, 2023)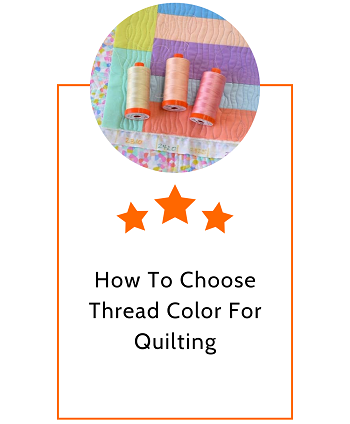 Do you waste a lot of time on thread color selection while quilting? Or have you ever become unhappy with the thread you used?
If the answer is yes, you are in the right place. And we are assuring you that you are not alone. Most beginners face this problem pretty often.
So, which thread color is best for quilting? Honestly, there is no fixed answer, and it depends on the quilter's preference.
However, the finished projects may look terrible because of the wrong color sometimes. Keeping these following tricks can help you to avoid such a situation:
Pick colors based on the quilting type
Hand quilting is quite different from the machine version. The latter allows us to set two shades in the top and bottom. Users just have to make sure that those two colors are not clashing. They can't enjoy this feature with Hand Quilting Thread.
Decide how the thread actually looks against your quilt
Thread colors appear to be brighter on the spool. You won't get an accurate representation of the thread's appearance like this. Unwind a little section and hold it against the fabric. Feel free to lay several colored threads so that you will get the perfect one. Although a few colors are slightly different, they may blend well with the fabric.
Go for a less visible thread
Apart from the thread color, the glossiness of the thread also plays a significant role in the project. Two same-colored spools may not match due to their sheen difference. As you know, the shiny threads look brighter and more visible compared to the regular ones. If you want a traditional finish, the thread color should not be popping too much. Therefore, you should prioritize invisible thread options.
Variegated yarns are ideal for multi-colored quilts
Do your quilts consist of too many colors, and you can't switch between different threads? Then, variegated threads are your best friends. Their multi-colored dye pattern typically begins from light shades and moves to darker layers.
Since these repeating patterns carry various colors, they add the desired depth to all multi-colored projects. Keep your eyes on the threads during quilting with a machine. If the bobbin thread's dark section runs over the top thread's light part, it won't look nice.
Pay attention to the values
Values refer to the contrast, which gives different effects. High-value indicates darker hues, whereas low value present lightness. People who want to keep the quilt piecing intact choose shades of similar value. They pick unmatched values to achieve more precise designs. For example, darker thread on a medium-color garment displays the patterns clearly.
Neutral colors never get old
Loud colors make the designs bolder, indeed. You should have a good knowledge before using them. If you are not sure, neutral colors will not let you down. They generally come in gray and blue hues. You will also find light red, magenta, light green, or other shades.
The best thing is that they literally look good with any fabric. The designs don't overshine the fabric's beauty. These beginner-friendly colors are suitable for both hand quilting and machine quilting.
Know the concept of invisible colors
If quilters don't want to add colors in any area, same-colored threads are helpful. The downside is that finding out the exact shade is not always possible. In this case, the invisible thread becomes the solution. They are monofilament nylon or polyester strands. They are thin enough to stay hidden regardless of the fabric color.
Invest time in understanding the color combinations
Figure out which shades look great against various clothes. Try to quilt on a few scrap pieces if necessary. In general, similar or dark-gray thread looks impressive on dark sections. On the other hand, light shades such as off-white, cream, and medium-gray compliments light-colored fabrics.
Conclusion
Now that you know the basics of thread colors, you can make any type of design you like. Remember, there are no hard and fast rules. Don't be scared of trying something new or being experimental; only your satisfaction matters. Happy quilting.