(Last Updated On: July 17, 2023)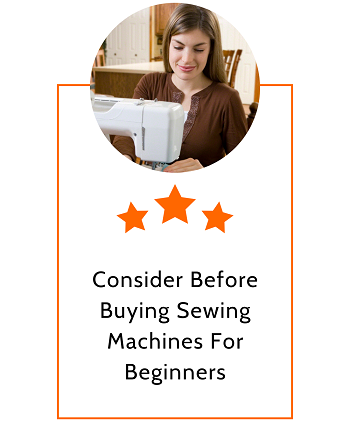 Before we provide a proper buying guide to you, let us clear one thing at the very beginning. We are going to consider the basics.
Beginners need nothing onerous, unusual, or intricate. Basic, easy, simple, compact, convenient, comfort, are what a beginner needs to have in a sewing machine to continue having a passion for sewing.
Anything that causes failure might kill the zeal of a fragile learner right in the beginning.
So, below are the features that we think a beginner needs in a sewing machine. Your need might be another.
It is purely subjective. But trust us when we say you need these for smooth, creative, pro-level, but simple stitching. 
Built-In Stitches
When it comes to built-in stitches, our preference will always be lesser is better. If you set your mind to thinking you are going to use the same machine forever, then you will think of having everything in one machine.
Even a thousand built-in stitches will seem to be insufficient. But that's a wrong thought process. Just practice with the right one and take small steps to perfect the craft. New machines with thousands of built-in stitches and advanced features will eventually come.
Buttonholes
We do not prefer four-step buttonholes or buttonhole stitches. For a beginner, to be specific, anyone needs auto-sized one-step buttonholes. Not just the one-step, but also varied styles.
The more, the merrier. When that tech is available in so many sewing machines, we prefer the ones that have it. It saves time. And more than one style will help your projects to be distinct.
Auto Needle Threader
We expect that sewing machine manufacturers have stopped making machines without an auto needle threader. At least that's the case with all the best sewing machines for beginners we just talked about, barring one or two. If there are still any, just shun them.
What is the point of a sewing machine without it that generates a constant struggle to pass the thread through the needle, straining the eyes? Yes, practice makes a man perfect, and so will the continuous thread passing through the needle will do.
But believe in us when we say there are better things to practice. Get a sewing machine with an auto needle threader, and save time and eyes.
Free Arm
In actuality, the one who sews without the free arm knows the struggle and frustration of not having it. Not having it ruins dresses and apparel. Suppose you do not have one and need to have sewn around. 80% chances are there that instead of sewing around the sleeves, you end up stitching the seams together.
We all have made that mistake at least once. With a free arm, that chance minimizes. Also, you can observe, concentrate, and sew small projects without any struggle. It is time to enjoy sewing collars, sleeves, hems, and suchlike.
Lit Work Area
Many times we do not give much thought to the importance of a bright needle area. Of course, none is going to stitch in the dark. But no matter how illuminated the room is, the light in the needle area is never enough.
So, we prefer a sewing machine that has a proper bright light system on its work surface. The bright light is going to help you to have a close look at each stitch the needle is making.
Feed System
The feed system includes the feed dogs, presser feet, and fabric. For a smooth feed system, all these depend on each other. Depending on the type of fabric, stitches, and section of a project you are going to sew, you use varied presser feet.
The presser feet are going to lock the portion to the feed dogs maintaining smooth feed and making it easy to target and sew a specific area of a project.
Bobbin
If you are a beginner, avoid a front-loading bobbin. You are not going to enjoy it. For you, the top-loading drop-in bobbin is the best. Top-loading ones are easy to set in the machine, and you can keep a check on whether your bobbin is out of thread or not.
Or you might end up sewing your project without thread. The top-loading bobbin auto pops out and drops in, is easy to thread, and stitch quality is way better.
Miscellaneous
Other than the above, a LED screen, reverse lever, stitch and length-width dial or buttons, speed control system, easy bobby winding system, needle up/down button, and foot pedal are some features that make stitching more comfortable for a beginner.
Another important thing for a beginner when choosing a sewing machine is its price. It has to be low-priced without compromising the quality and features of the sewing machine.
Discover More: Read on!