(Last Updated On: June 19, 2023)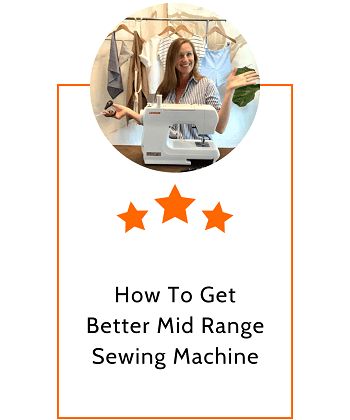 Deciding what type of sewing machine one needs could be tricky. That, too, keeping it within a budget.
Sometimes a beginner makes a mistake by investing in a not-so-easy, beginner-friendly sewing machine that turns the learning process into a disaster, and many lose interest, thinking sewing is not for them.
Quite similarly, more skilled sewers will lose their interest, making the same old patterns and creations with a basic machine.
One got too upgraded than it needs, and the other one needs an upgraded version for better performance.
And in between, you have the intermediate sewers who have learned a lot but still have a long way to go. You have sewing machines for this mid-range level, too, if you didn't know. And here we are to try to help you all mid-range sewers to get a sewing machine that suits your skill and purpose.
Budget Is Everything
At this level, you are no more a noob, who perhaps does not understand the more complicated sewing machines, slightly intricate ones, and stops using them. Your quest will compel you to upgrade your machine. It's a given and a norm for any enthusiastic learner.
And at this moment, with your little bit of work, you must have got a little better on the budget too. So, this is when you set a budget because it's everything. The better always demands a little higher budget.
The decision is crucial because you need to understand where to stop and stay within budget. Set your goal, understand your purpose, understand the features you are aiming to work with, and then choose a couple of sewing machines. Then assess the price and the features, and decide whether you are ready to spend that money on those particular machines.
Do not depend on others. Take expert opinion but believe in your instinct while setting the budget. We think one should not hesitate while buying a Mid Range Sewing Machine spending a hairbreadth more because the features and quality such a machine offers last for years and will be worth it.
We Prefer The Computerized Ones
When you have passed the beginner level, we think this is when we need to chuck the mechanical sewing machines. We are not saying you cannot use them. Even the most skilled sewer can, but rather than turning a wheel and doing most of the things manually and compromising some of the mandatory features, it's better to upgrade yourself to a computerized sewing machine.
For a beginner, we wouldn't emphasize it. However, for us, a computerized sewing machine is the best mid-range sewing machine.
No Need For Hundreds Of Stitches, But Six To Ten Will Not Do Too
A mid-range sewing machine will not have multiple hundreds of stitch selections, patterns, or functions. It will have ample, but still the most needed ones for intermediate skill levels.
If you want to continue using such a machine for a more extended period, you can opt for the ones with a double hundred stitch selection ones, but we think anything around 50-100 is more than enough when it comes to a mid-range sewing machine.
Chances are way higher that you will not use most of the stitches, but the beauty of the mid-range is you have scope to experiment if you want to.
Some Features Are No More A Bonus But Mandatory
Having a free arm and extension table, adjusting capability of stitch length and width, illuminated working space, several presser feet, stitch and thread tension, speed adjustment, multiple styles of buttonhole feet and them being one-step and auto, auto needle threader, thread cutter, LCD screen, top drop-in bobbin; such features are now a must, not something you get as extras and turn jolly upon having. You are paying for each of these features when you are paying for a mid-range sewing machine.
Sturdy, Easy, Price And Value, We Need It All
The better mid-range sewing machine, of course, will be very sturdy and made of high-quality materials. Not with cheap plastic, which will wear off within a year or two. It will also make your sewing experience more fun, easy, and enjoyable. Sturdy never means heavy or clunky.
A nice, neat appearance with lightweight features will make the use even more convenient and comfy. What you are paying should be worth it. That is when you know you have got your version of a better mid-range sewing machine.
The rule is simple, just purchase a sewing machine that suits your skill. Trust us; you can easily allude to that. If not, we hope we could help you a little with our gathered information and knowledge.