(Last Updated On: June 12, 2023)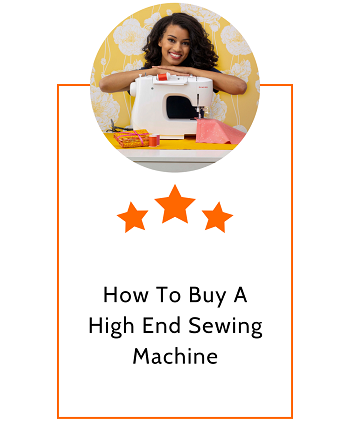 A high-end sewing machine will be a little too out of budget for many and sometimes a bit too complicated for not-so-skilled users.
So, one needs to be cautious before buying it. First of all, you are spending money which is way more than regular. Secondly, you are buying an advanced sewing machine.
Which, without proper knowledge, you can't use to its full potential, basically turning it into a waste of money, superfluous.
Below is our attempt to guide you towards a great buy of a High-End Sewing Machine.
Factor #1 – Consider The Size Of The Sewing Machine
Now, the price of a high-end sewing machine has nothing to do with its size. Yes, the free arm, wide table make the machine broader and larger. Other than that, it could be the smallest sewing machine with all the high-end features.
If you are working at home, and your working area is not too spacious, quite obviously you will need a smaller sewing machine. However, your projects and clients will not consider where you are working. That is not how business works.
So, rather than struggling with the working space, choose a sewing machine that fits your small workspace. Quite similarly, if you have no issues with your working space and can place a comparatively larger machine with a wider needle space, extension table, and all that jazz, just go for it.
Keep in mind that not always the smaller machines will be less pricey than the bigger ones. So, instead of sighing and regretting the high-end sewing machine later, measure and assess your workspace well and then go for the buy.
Factor #2 – Assess The Stitch Selection
Our expectation from a high-end sewing machine will be a lot of stitch options to select from that too, with an easy selection of dials or buttons. The more high-end your sewing machine will be, the stitch options expectation must be higher and higher.
Like us, your expectation must be the same too. However, one thing you have to make sure that you know is to use those stitches properly. Or at least have the will to learn how to make proper use of all those beautiful stitch patterns and functions.
If you think you will use the same five to ten stitch options, you do not require a high-end sewing machine. Expect various straight stitches, decorative stitches, utility stitches, blind-hem stitches, and most importantly, the auto buttonhole stitch. Anticipate the sewing machine to make the way of using those stitches the easiest and quickest.
Factor #3 – Ensure To Every Possible Special Feature
If you have spent a ton on a high-end sewing machine, do not consider compromising with a single much-needed feature, feet, accessories, or attachment. In an affordable sewing machine, anything a slight extra seems like a bonus.
However, in the case of a high-end sewing machine, nothing is extra. Everything is a must-present in the machine. Thread cutter, auto-threader, light, free arm, extension table, presser feet, that too many of those, needles, bobbins, the list is long, and nothing is a bonus if it's a high-end sewing machine, remember.
Factor #4 – Decide Your Budget
Now considering the above four factors, you have to decide on the budget. More features make the machine more high-end and highly-priced. Yes, you can have a budget in mind depending on your savings right in the beginning.
However, if you need all the facilities, this is when you need to decide whether you will wait and save some more or buy any of the high-end sewing machines, the best one with the money you have.
When you have considered all the above factors well and have the budget, it is time to buy a high-end sewing machine from the best brand possible.