(Last Updated On: July 10, 2023)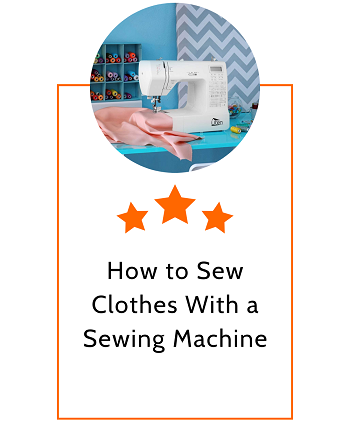 You may be overwhelmed by the various aspects of sewing if you are a beginner. However, it is better to start learning from the basics before you move on to becoming a pro at sewing clothes with your sewing machine.
A lot of time would be spent learning various aspects of sewing. You would have to thus ensure that you are selecting a sewing machine that makes sewing fun rather than otherwise.
In case you are selecting a sewing machine that is meant for professionals then it may become a hard task for you to learn with it. Thus, it may be a good idea, to begin with, a basic sewing
Basic Aspects to Consider
How to thread a sewing machine?
This is the foremost thing that you would need to know before you start sewing your clothes with the sewing machine. It may be a good idea for you to keep the manual next to you even after going through it completely.
You may also do it multiple times to get things right and keep yourself completely familiarized with threading a sewing machine.
Starting with Basic Sewing
The first thing that you would have to do is start with a piece of paper and start stitching in straight lines. This would help you get acquainted with the basics before you move on to curved sewing.
There are short stitches and long stitches that you may want to get used to with a piece of paper or with a cloth.
Drawing lines and stitching along with these lines may help you master the basic patterns. It is always a good idea not to have huge expectations, to begin with, and to be disappointed later.
Rather you can choose to stitch a handkerchief with different patterns of stitches and decorations.
The Need for Pre Washing
A lot of people do not consider the pre-washing of the cloth before they begin sewing. Simply immersing the cloth for a few minutes before you dry it out may be important.
This would enable you to test the shrinking tendency that the fabric may have. This removes the possibility of bleeding the dye when you stitch two or more bright colors together.
Measurements of the Body
You would have to ensure that you take your measurements when you wear similar clothes that you wish to stitch. This would ensure that you do not have a misfit after you complete your stitching.
Always remember that everyone has a unique body and thus the sizes may differ accordingly.
So, learn to take measurements appropriately and do so before you cut the fabric that has to be stitched. This would ensure that the stitched cloth is a perfect fit.
Pressing the Fabric
It is always advised that you go through as much time pressing the fabric that you want to be stitched before you cut them into pieces suitable for stitching.
Using a good iron for pressing would ensure that the cloth has no wrinkles and is optimal for stitching.
Interfacing and Marking
The process of interfacing and marking your clothes can play an important role in how the outcome. By marking the fabric according to the measurements and then interfacing them you ensure that every aspect of the fabric is in place for you to begin sewing.
The process of interfacing can be important when it comes to getting your buttonholes, button stands, collars, facings, and zippers.
Cutting of Fabric
Practicing it more than once on a piece of paper can be a good start before you cut real fabric. There are different cutting methods that you would have to get used to before you can cut the fabric into the perfect size and shape.
So, once you get used to the cutting aspect you can move on to cutting the fabric according to the measurements and markings that you have done on it.
Techniques Involved in Sewing
You would have to ensure that the inside part of the garment is as good-looking as the outside part of it before you start sewing it. Zigzag sewing as a beginner is the optimal way in which you can start your first sewing of clothes.
Before you come to this you would also have to ensure that the edges of the fabric are finished to perfection so that it looks professional.
Knowing a few hemstitching techniques before you start the real sewing would be handy. To begin with, you can practice sewing seams that would be nothing more than using the straight stitch.
To be able to anchor the thread at the end of the fabric you would need to do a few backstitches.
Once you have learned the basics that are mentioned above you would be better placed to start sewing. The perfect pattern is what you would need next before you start sewing.
You have two options available to you. One is to buy ready-made patterns available in the market or make ones by yourself.
Last but not least, the thing you would have to keep in mind is sewing with cheap fabric, to begin with. This would help you try different patterns before you can master them completely. It would ensure that you are completely in control when you stitch clothes with a piece of expensive fabric.
Conclusion
Getting the basics right would be an enormous step towards you becoming good at sewing. Do not use shortcuts if you are a person who wishes to be independent and self-taught.
As time goes by you would begin to make masterpieces by sewing various types of fabric for different purposes.
The rule of thumb is to use the user manual of the manufacturer that comes along with your purchase even while taking up lessons to make things easier for you.
This would ensure that you do not have any hiccups while you are a beginner learning new things with sewing.
In case you do not love sewing then it may become increasingly frustrating and difficult to stitch clothes. So, ensure that you love what you do so that you can stitch clothes both for yourself as well as for your loved ones at home.