(Last Updated On: September 2, 2023)
Flexible standby time settings

Quick steam heating timing

Fusible link for extra safety

Best for regular use

Made in the USA
Great sanitization system

Advanced Compact Size

New-age technology

High portability

Versatile use
Good quality for the money

Heavy-duty built capacity

Comfortable to use

Quick response

Easy to Use
Our team of experts has selected certain products & assigned a star rating to each product. Read our detailed review below.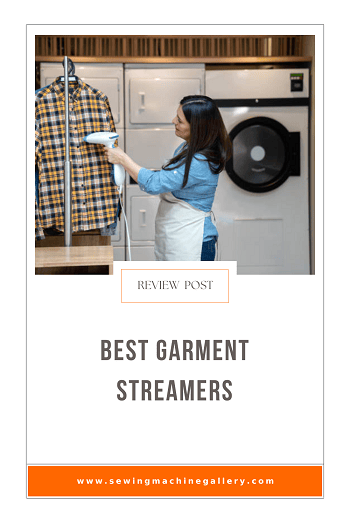 Having a garment steamer at home can make your life easier.
It has been popular since 1926. Over the years, garment steamers are common in most households.
But it's challenging to find good quality steamers.
While looking for the garment steamer, you should look into the heat time, head material, efficiency, and operational features.
Also, consider the price and storage capacity.
After searching for a while, we've listed the five best garment steamers that come in budget-friendly to expensive price ranges for beginners to advanced users.
The 5 Best Garment Steamers Reviews
Last Amazon price update was: September 27, 2023 6:27 pm
TOP PICK
Features at a Glance:
Flexible standby time settings
Quick steam heating timing
Fusible link for extra safety
Best for regular use
Why We Love It? One of the best things about the Jiffy garment steamer is the metal stream head, making it more convenient and durable. It's comfortable with steaming your garment cloths using this high-efficiency steamer.
Product Information:
| | |
| --- | --- |
| Brand | Jiffy Steamer |
| Model | 1821 |
| Capacity | 3.79 Liters |
| Wattage | 1500 watts |
| Material | Die cast aluminum |
| Weight | 10 pounds |
| Dimensions | 12 x 13.5 x 20 inches |
Product Description
Jiffy is a remarkable brand of garment steamers. It comes up with die-cast aluminum built quality and 6 inches wide metal steam head. Even if you're a beginner, you can easily use the Jiffy 1821 steamer without hassle. Also, it includes flexible standby and steam settings.
This garment steamer has been manufactured in the USA. However, it gets to the perfect heat temperature in 15 minutes. Along with that, it provides a 304 stainless steel water tank capacity of 3.79 liters that you can steam for a long time.
As this upright steamer includes a 5.5 rubber hose, steaming your clothes anywhere is comfortable. Jiffy Steamer offers 360-degree swivel casters for better mobility, an auto shut-on-off system, color-coded temperature wiring, a sight gauge, and 1500 watt Incoloy heating element.
TOP RATED
Features at a Glance:
User-friendly steam nozzles
Ensures wrinkle-free service
Fresh ironing formula
45-sec heating time
Great heat output
Easy to use
Why We Love It? We chose it because this steamer has amazing features and robust built quality that will blow your mind. The best feature of the Steamfast Canister garment steamer is it can steam soft and delicate clothes without burning them.
Product Information:
| | |
| --- | --- |
| Brand | Streamfast |
| Model | SF-562 |
| Capacity | 5.4 Pounds |
| Wattage | 1500 watts |
| Material | Plastic / Metel |
| Weight | 12.1 pounds |
| Dimensions | 13.2 x 13.2 x 47.2 inches |
Product Description
Steamfast canister steamer is popular for its 45-sec quick heating timing. Moreover, it includes a 5-pound-sized removable water tank and 57 inches cool touch fabric hose that keeps the steaming consistent for curtains, bedsheets, upholstery, and heavy-duty fabrics.
It holds up the steam heat for around 96 minutes. Beyond these extraordinary features, you'll get an additional fabric brush, adjustable telescopic pole, clothes hook, and collar helper to support you while steaming garment products.
The steamer has a 100% chemical-free ironing formula that makes it highly effective, and it works gently for all types of natural garment clothing maintenance.
However, it helps to fix wrinkles and foul smells from different fabrics and clothing. This high-quality steamer has 56 inches  Yet, but it includes 2 steam settings, an indicator light, a wheel, and 9 excellent nozzles.
PREMIUM PICK
Features at a Glance:
Customizable flat board height
Great sanitization system
New-age technology
High portability
Versatile use
Why We Love It? Choosing a Rowenta all-in-one garment steamer can be a good idea for professionals because it comes with modern technology and refreshing capacity. Additionally, it offers jaw-dropping features that make garment care easy and comfortable.
Product Information:
| | |
| --- | --- |
| Brand | Rowenta |
| Model | QR1410 |
| Capacity | 1.54 Litre |
| Wattage | 1500 watts |
| Material | Stainless steel |
| Weight | 1.31 ounces |
| Dimensions | 19.49 x 12.01 x 65.75 inches |
Product Description
Rowenta steamer has an advanced compact size and interchangeable ironing and steaming system. The patented ergonomic 3-positioned smart board technology helps to operate the steam nozzles perfectly and eases your back pain. You can steam vertically, iron horizontally, and both at a medium angle.
Furthermore, it provides the best sanitizing feature that removes bacteria, viruses, and germs. This all-in-one pro steamer has a flat board with an adjustable height of 30 to 45.5 inches. It includes smart protection technology to prevent burning sensitive clothes.
Also, this steamer offers 5 steam pressure bars, IXEO's lightweight head, and turbo steam technology. Apart from these exciting features, it takes only 45 seconds to heat with 1500 wattage power at a time. As it has built-in wheels, you can move it with amazing mobility.
BEST OVERALL
Features at a Glance:
Makes your clothing wrinkle-free
Upright full-size compact design
Heavy-duty built capacity
Comfortable to use
Why We Love It? We recommend Conair for its professional steam capacity and great virus-killing technology. Also, it offers customizable settings, from regular wear to garment clothing and delicate fabrics.
Product Information:
| | |
| --- | --- |
| Brand | Conair |
| Model | GS121 |
| Capacity | 1.8 Liters |
| Wattage | 1875 watts |
| Material | Plastic |
| Weight | 13.5 Pounds |
| Dimensions | 16 x 16 x 16 inches |
Product Description
Regarding Conair garment steamers, you'll get turbo extreme steam technology with 40% extra heat, double steam coverage, and 25% stronger than handheld steamers.
Besides these smooth steaming capacities, a 360° rotatable valet stand with a multi-garment hanger including 4 garment clips. It offers removable attachments such as silicone bands, bristle brushes, creasers, and delicate spacers.
Nevertheless, it has a dual-slotted aluminum soleplate, adjustable settings for temperature, 90 minutes of steam time, and anti a calcification filter for preventing calcium buildup.
The safety feature includes an auto shut on-off system and pause capacity that will be turned off if you don't use it for 30 minutes.  Having the telescopic pole and long-lasting cord cover makes storage easier. It removes wrinkles and kills 99.99% of bacteria within a short time.
EDITOR'S CHOICE
Features at a Glance:
Works great on delicate fabrics
It includes a removable hanger
Automatic shut-on-off system
Lightweight
Why We Love It? The reliable steamer is well-known for garment care. If you're working on steaming garment projects, you can look into its prominent beneficial features and strong construction.
Product Information:
| | |
| --- | --- |
| Brand | Reliable |
| Model | 550GC |
| Capacity | 3.78 litre |
| Wattage | 1300 watts |
| Material | Metal/PVC |
| Weight | 13.4 pounds |
| Dimensions | 16.5 x 11.5 x 70 inches |
Product Description
The best part of the Reliance steamer is you can customize the head material from metal to PVC with a wooden stay-cool handle. Luckily, it's also easy to assemble and operate. This steamer uses the safety feature to press the garment fabrics with extra care.
However, it features easy rolling and non-skid wheels for high mobility. It provides 1300 wattage brass heating element and the best quality heavy-duty steam head to remove wrinkles. Reliance steamer has a built-in removable hanger, thermal fuse, and robust brass fittings.
Additionally, it includes fabric covered hose and spring-loaded anti-spill cap for hassle-free water tank filling. You'll get an integrated water bottle-shaped tank, 203°F steam heat, and 145°F head temperature.
Final Thought
After all, you can choose from our best garment steamer recommendations. We've mentioned the most widely used garment steamers in this list. These steamers are affordable and reliable for their modern and multi-purpose features.
If you're looking for a steamer for regular ironing or garment products, then Jiffy or Vivio 550GC can be your best catch. But for professional steaming and ironing quality, you must go with the Conair, Rowenta, or Steamfast. That's all for today.